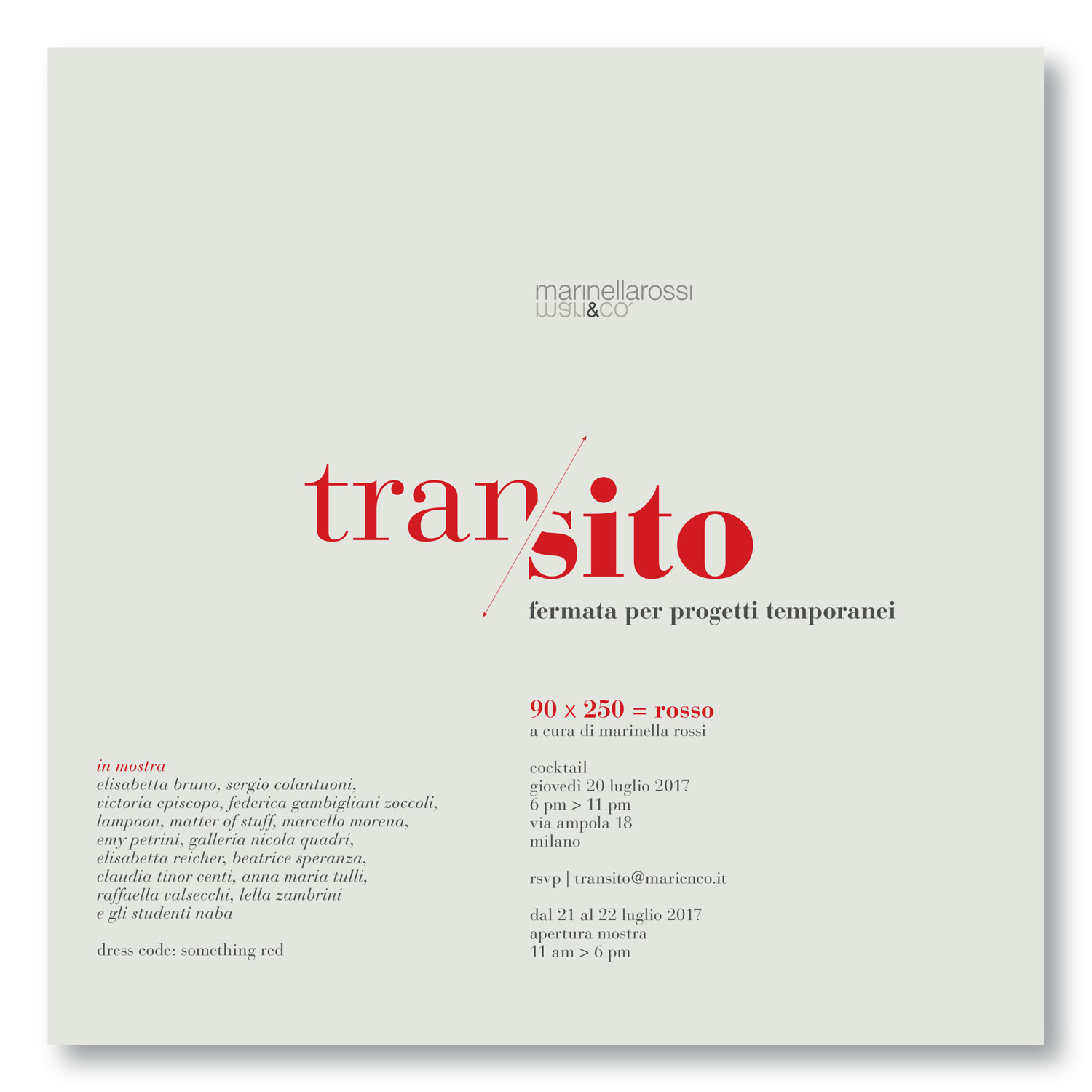 Transito. Fermata per progetti contemporanei
90×250 = rosso
Marinella Rossi
via Ampola 18 / Milano
20 – 22 july 2017
In Milan, via Ampola 18, behind the Prada Foundation – an ever-evolving and promising area – there is an iron gate that opens into an unexpected place: large and small rooms embracing a secret and silent garden. The hostess is Marinella Rossi, or rather Mari&cò, who has opened for the design week in Milan her wonderful space, a former mechanical workshop, for artists and designers. Transito / numero zero gives way to a project that hosts and hosts among seaside rooms, unpublished works by designers, artists and chefs, tied together by a common thread, and destined to continue their journey of research and fulfillment.
The word "Transito" can be summed up in the definition of "short stop to continue flying to other destinations". So Marinella's space does not want to be a landing place but a boost to new routes and routes.
There will also be the lucchesi Emy Petrini and Beatrice Speranza.
Emy Petrini, will be present with 5 sculptures in Willow, her Shelters, a protected and secret place that will repair you when there is a storm. For the occasion she conceived and realized Passages, two opposite walls of tall willow branches that invite you to cross a door, the beginning of a journey to a place full of subtle suggestions.
Beatrice Speranza landed in Milan with her Appearances, small photos printed in cotton paper and embroidered with woolen yarn, a soft silk, which is revealed only to those who approach carefully, a bridge between the inner and the outer world.