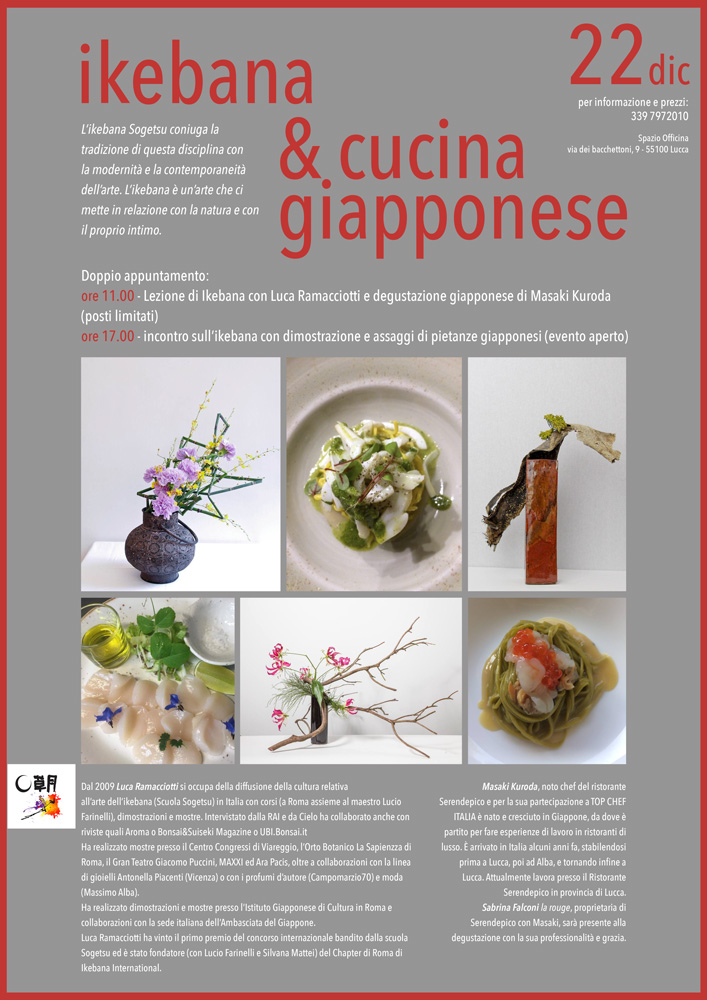 Ikebana course and Japanese cuisine @Spazio Officina
A great event for December 22 at the Spazio Officina of Emy Petrini: Course of Ikebana and Japanese cuisine.
The ikebana Sogetsu combines the tradition of this discipline with modernity and contemporary art. Ikebana is an art that connects us with nature and with one's intimacy.
The day dedicated to this unmissable mix will be structured in two moments:
11.00 am – Ikebana class with Luca Ramacciotti and Japanese tasting of Masaki Kuroda (limited places)
5.00 pm – ikebana meeting with demonstration and sampling of Japanese dishes (open event)
Luca Ramacciotti deals with the dissemination of culture related to the art of ikebana (Sogetsu School) in Italy with courses (in Rome together with the teacher Lucio Farinelli), demonstrations and exhibitions. Interviewed by RAI and from Cielo has also collaborated with magazines such as Aroma or Bonsai & Suiseki Magazine or UBI.Bonsai.it
He has made exhibitions at the Viareggio Congress Center, the Sapienzza Botanical Garden of Rome, the Giacomo Puccini Gran Teatro, MAXXI and Ara Pacis, as well as collaborations with the Antonella Piacenti jewelry line (Vicenza) or with the author's perfumes (Campomarzio70) and fashion (Massimo Alba). He has made demonstrations and exhibitions at the Japanese Cultural Institute in Rome and collaborations with the Italian Embassy of Japan. Luca Ramacciotti won the first prize in the international competition launched by the Sogetsu school and was the founder (with Lucio Farinelli and Silvana Mattei) of the Rome Chapter of Ikebana International.
Masaki Kuroda, well-known chef at the Serendepico restaurant and for his participation in TOP CHEF ITALIA, was born and raised in Japan, from where he started to work in luxury restaurants. He arrived in Italy a few years ago, settling first in Lucca, then in Alba, and finally returning to Lucca. He currently works at the Serendepico Restaurant in the province of Lucca.
Sabrina Falconi la rouge, owner of Serendepico con Masaki, will be present at the tasting with her professionalism and grace.