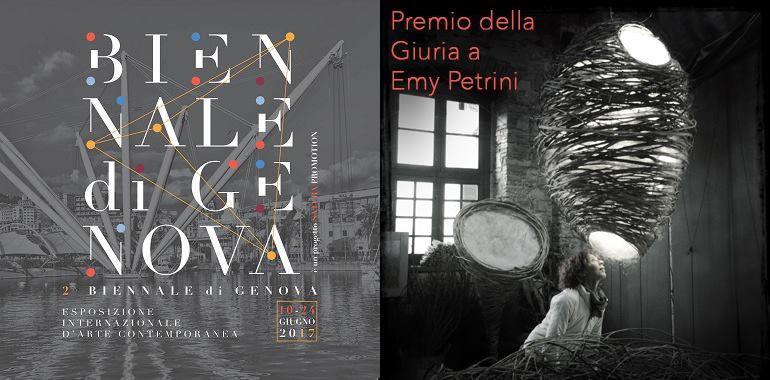 PRIZE OF THE JURY AT THE 2nd BIENNIAL OF GENOVA
It was inaugurated on Saturday, June 10, the 2nd Biennial of Genova 2017 – International Exhibition of Contemporary Art, curated by Mario Napoli. The exhibition, sponsored by the Liguria Region, the City Hall and the Metropolitan City of Genoa, and the Chamber of Commerce, will remain open until June 24, 2017. Exhibitions: Palazzo Stella, Palace of the Stock Exchange, Galata Sea Museum, Department of Architecture and Design, Palazzo Doria Spinola, Museum of the Ligustical Academy of Fine Arts, Palazzo Nicolosio Lomellino, Palazzo De Ferrari Galliera, Biblioteca dell'Emitor Library Museum and Malapaga Walls.
GENOVA 2017 Biennial, Act Second. From June 10, Genoa returns to being the theater for one of the most comprehensive and exhaustive national events on contemporary art, with almost three hundred visual artists from all over the world. An exhibition system that develops horizontally, capillating into the city's fabric with eleven prestigious locations involved, and vertical because it gives space to artists from emerging talents to great masters such as Carlo Nangeroni and Antonio Barrese of the MID GROUP. The GENOVA 2017 Biennial, therefore, reaffirms the enthusiastic numbers in terms of the 2015 edition of the edition, countering how SATURA's over twenty years of activity have their absolute specific weight, but not only. The event is constantly evolving, more convinced of its ability to create a direct social conjunction between cultural promoters, visual arts and the public. The entire project, born as an independent and innovative "platform" for contemporary art, is an important opportunity for cultural growth for the city, a means of valorisation for artists and, ultimately, the potential to mature A critical conscience also in those who tend to be extraneous to art genres. The Biennale of GENOVA represents the first non-existent cultural point of the present, but now it is, and is a reality in constant affirmation at the territorial and national level. It is a demonstration of contemporary "moving" art, needing to circulate in the widest possible degree; To return to playing his game consistently in everyday life, in a dimension that allows her to look at her without reverential fears and without prejudices. In the end, among the lines of the project that led SATURA to create the Geneva Biennale, it is easy to read a clear hope, that contemporary art can fully recover that expressive-cultural value with which it was born.
Emy Petrini received the jury prize for her artistic creations.